Letchworth boxer Tom Ansell Up Close: My target is and always has been to be world champion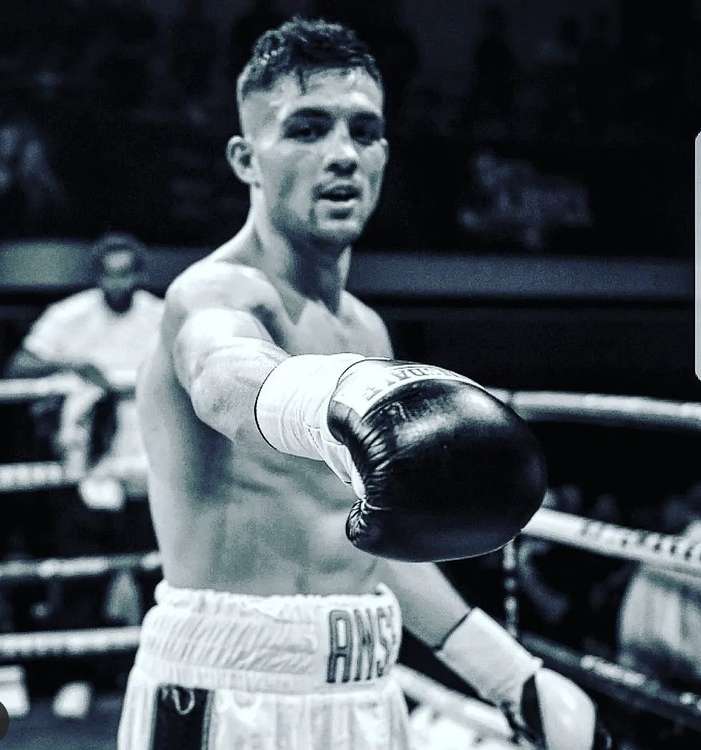 Tom Ansell is a rising star. Catch him next weekend, ticket details in the story. CREDIT: Tom Ansell Instagram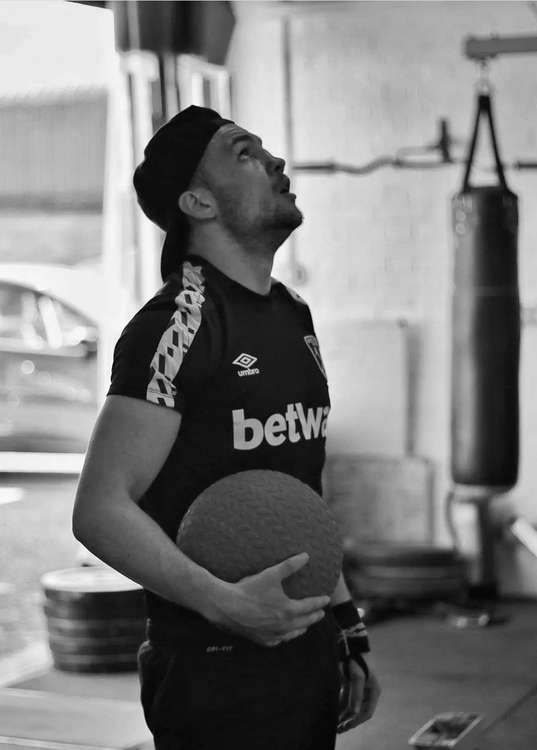 Tom Ansell has been working hard ahead of his next fight as he eyes a title shot soon. CREDIT: Tom Ansell Instagram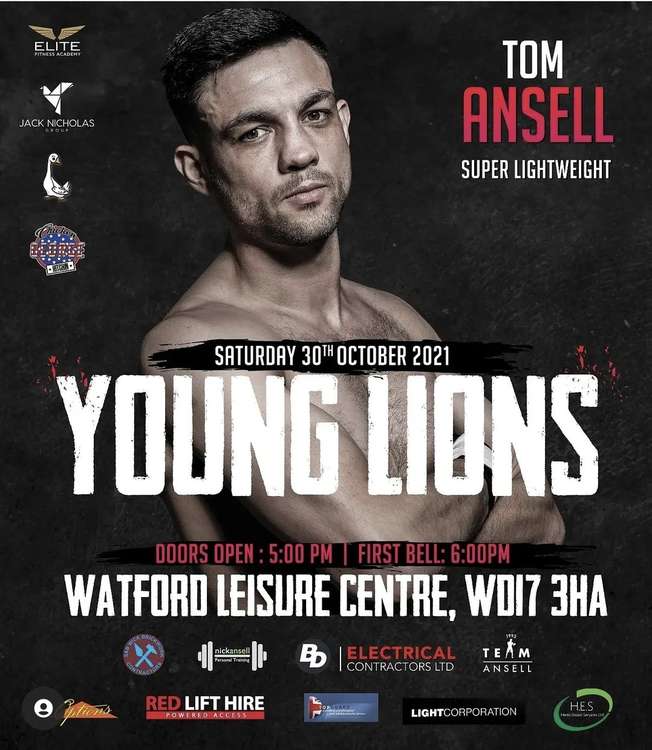 Get your tickets for Tom's fight next weekend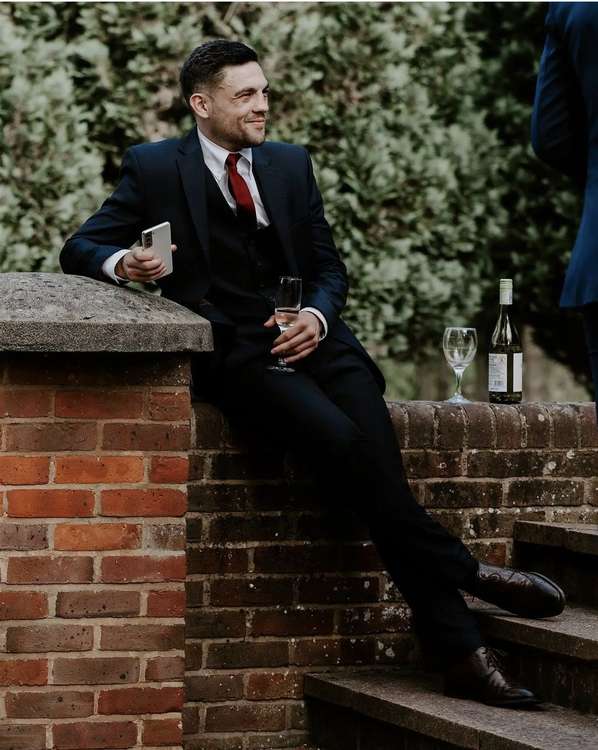 Stylish family man Tom relaxes away from the ring. CREDIT: Tom Ansell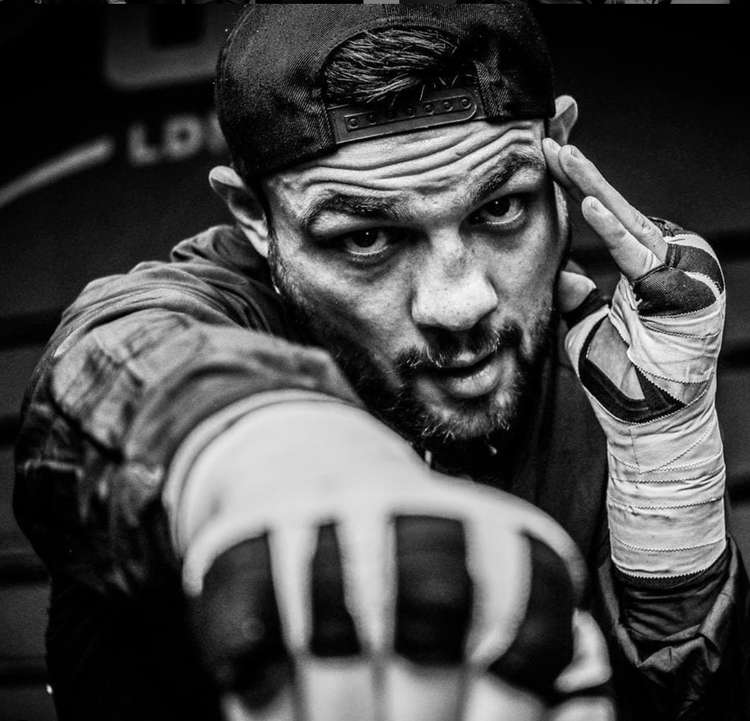 Get your tickets for Tom's fight next weekend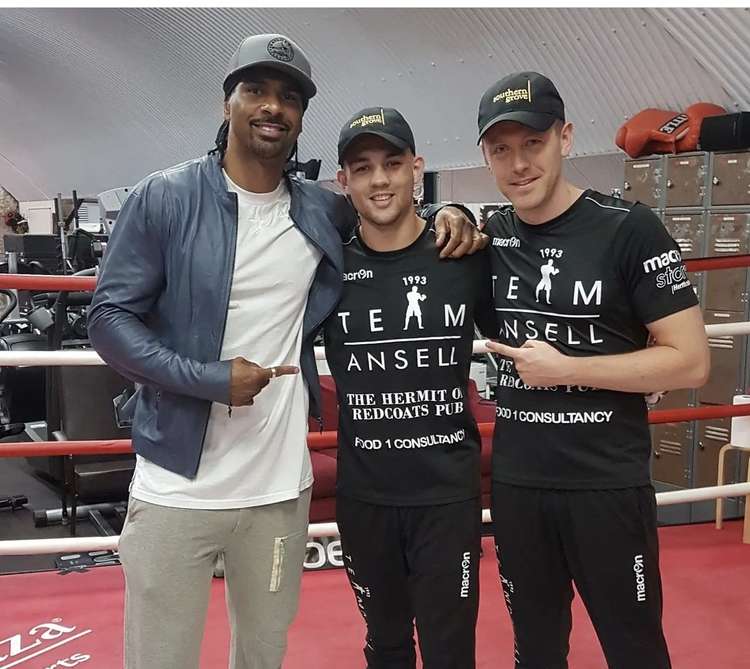 Team Ansell: Former world champion David Haye with Tom Ansell and his respected trainer Tony Pill. CREDIT: Tom Ansell
Letchworth Nub News caught up with Tom Ansell, a rising star in the boxing world.
Tom played for Letchworth Rugby Club before switching to the sweet science, and has been busy working hard as he gears up for his next fight.
Read on for our exclusive, in-depth feature on the popular but modest Tom, a renowned pugilist who has a big future ahead of him.
...................
NUB NEWS: Hi Tom, many thanks for your time, we know you're a busy bloke and have been working hard over the last few months ahead of your fight next weekend. Tell our Nub News readers what you've been up to?
Tom Ansell: Cheers, can I just say I love Nub News. So, I've been training hard working with Elite Fitness Academy in Hitchin.
We've also been at a new gym in Finchley, which is just down the road from Anthony Joshua's gym, called Pug. It's a great gym, all the guys are great. We've had loads of fighters come in. It's all going well. Anthony Joshua hasn't popped in yet but we're hoping he will one day...
The last 18 months have been a frustratingly strange time, but also a blessing in a way. The weekend we went into the first lockdown back in March 2020 I was supposed to have a fight, but it got cancelled for obvious reasons.
That was going to be my last fight before I had an eliminator for a title fight. It was very frustrating as you can image. I have two six rounders and I won them both.
NUB NEWS: We know you worked hard during lockdown...
Tom Ansell: It's just been non-stop. Lockdown was a bit of blessing in disguise for me, purely in terms of getting 100 per cent fit from niggling injuries. It also gave me time to work on the things that I didn't normally have time to work on. So, instead of glossing over them, it allowed me the time to work on them in detail and get them right.
We were offered fights in countries that didn't initially have lockdown, such as Sweden, but we just couldn't get the fights over the line, because they went into semi-lockdown which meant all sporting contests were cancelled.
But, it has also been frustrating in that respect because I'm at my peak but I haven't been able to fight. Everything happens for a reason and what will be will be. But I am raring to get back in the gym.
It does happen in boxing where fights don't happen, and you have to use your mental strength not to get too low at the disappointment. I've been trying out new things. If they work, they work. If they don't, they don't.
NUB NEWS: What has been the hardest element for you during lockdowns?
Tom Ansell: One thing I've really missed is the sparring - because we have to train by ourselves. You can't work out your frustration with anyone in the ring.
I was hitting the pads with my trainer Tony Pill and he said to me: "You're hitting the pads hard today," and I hadn't even really noticed. I can't wait to get back in the ring.
Tony has been keeping me on it, keeping me and the team on our toes. It's been strange for him too as he's always been used to training and preparing fighters for bouts and that was removed through the pandemic.
He's been busy though as he's set up his own management company. He's got a stable of unreal fighters.
NUB NEWS: I know you've gone up to 147lbs before, but what is your preferred weight at the moment - and what are your plans from now on in?
Tom Ansell: At the moment I'm a super lightweight which is 10 stone (140lbs). I'm happy there, I won't go lower. I'm at Southern Area level now, maybe English title if anything came up. My ambition is to be world champion. But at the moment we'll take each fight as it comes.
I've always said that since I've started boxing I will go for the 'lesser' titles before working my way up.
My record is 9 & 1. We've been doing six rounders and four rounders. When we get to a title fight it will be 10 rounds.
NUB NEWS: I've been covering your career for a few years now and covered you in fights at Bethnal Green's world famous York Hall, as well as places in North London including a raucous evening at Tottenham Leisure Centre, but for readers who might not know you, talk us through your strengths...
Tom Ansell: My strengths are that I'm very aggressive. I'm very powerful at this weight. I'm quite big for this weight now. I've managed to keep my power all the way through. I'm also very fit. I think people underestimate just how fit I am. I just have to keep going.
I love being underestimated. Whether it was when I played football or rugby when I was younger. I love surprising people.
NUB NEWS: With your rugby background playing for Letchworth when you were a youngster, do you think that has helped you in terms of your boxing career?
Tom Ansell:I think having a rugby background has helped with my boxing 100 per cent.
I think having the experience of 18 stone rugby players running at me as helped massively. If I deal with them I can deal with 10 stone boxers throwing punches at me.
The physicality of it, of people throwing their bodies at me has honed me anticipation as well as being able to take it. Also, in technical terms, in my body position. If Mike Tyson was fighting me I could tuck in as my body is strong enough to stay there – as well as being able to generate power in my shots.
It all translates. I'm actually strength and conditioning coach at Letchworth Rugby Club with former professionals such as James Tyrell and others. We've got an excellent team.
The boys are always supportive of me. They're always asking when I've got a fight comning up. They also ask to spar me. I tell them it's not a good idea. I do tell them I've ready for them. And they shy back a little after that…!
Although the front row boys don't shy back so much, it's more me doing that when they are concerned [laughs] They're all good lads. It's all going really well.
NUB NEWS: With the famous 'Ansell Army' behind you, promoters must love you as well - as you can move plenty of tickets too....
Tom. Ansell: The good thing is that with the support of Letchworth Rugby Club I can always sell tickets for a bout. A lot of tickets. We also generate about £25k worth of tickets. If Eddie Hearn happens to be reading this, get me on board, you'll make money!
NUB NEWS: You've always said you want to be a world champion. But what's your immediate plans...
Tom Ansell: I'll be hoping for a title fight after next weekend's fight. I'm not sure who that will be against but whoever it is they will be in trouble, and then we'll kick on from there.
My target is and always has been to be world champion. If we get there then brilliant. If we don't, well, let's get as far as we can and pick up as many belts along the way.
I would say I'm quite a marketable prospect because I'm durable, I'm powerful, I'm strong and I can sell tickets. I'll just be myself. If people hate me then I'll get over that. But away from the ring I'm quite a loveable guy – so why not come and join the movement.
I do have white line fever. As soon as I get in the ring people say they can see the difference. The best thing about being a boxer is being able to fight legally. And meeting people, including David Haye.
Of course, as soon as I step out of the ring I get on witheveryone and respect everyone. I respect everyone until they give me reason not to…
NUB NEWS: I know you'd like to thank your many sponsors, including's Hitchin's iconic Chicken George...
Tom Ansell: Yes, cheers. Chicken George do fantastic food, they're great guys. So I used to work with owner Chris Cheah and Emily his partner. I worked for them at the Hermit Of Redcoats. He was head chef. I was the barman. It was all good fun. My son went to the same school as Emily's son.
So when they opened here in Hitchin, everyone was so excited as they are so good. They are renowned for good chicken, across the whole of England, let alone Hitchin and north Herts.
To have them on board as sponsors is a perfect match. They're helping me out for my next fight. My medicals and so on, which is great as it's quite expensive. A big thank you to them as they've been first class.
Chicken George do a lot of good for our community, they also have various hook-ups with sportspeople. I know they had the Saracens boys down here this summer. Everyone loves Chicken George.
After the weigh in when a boxer is allowed to eat what they want ahead of their fight, it will have to be Chicken George. Wing Fu Hustle, Korean BBQ, Dirty Fries. A decent combo.
NUB NEWS: What are your long term plans away from boxing?
Tom Ansell: I'm also setting up an academy with Jack Collison [former Wales and West Ham midfielder] and his brother Alfie at Elite Fitness Academy.
We'll have some big names coming down across the summer. I'm training Alfie at the moment, who's a good little boxer. The age range is five to 13. It will then be a feeder into the amateur club we'll be starting later this year.
Jack has been great, he's out coaching in the States but we've had plenty of Zoom calls getting the academy together. We're smashing it.
As a West Ham fan I'm always chatting with Jack about it. It might be a blessing in disguise that we didn't make the Champions League – imaging Craig Dawson coming up against Mbappe. The team did so well in all seriousness and we're looking forward to European competition next season – David Moyes has been unreal.
NUB NEWS: We're aiming to be at your fight at the Watford Leisure Centre next weekend, but either way, good luck mate...
Tom Ansell: Cheers Layth, nice one, it's been a great ride so far, and long may it continue. I'll give it everything to reach my goal, which is to be world champion one day.
...............
Tom would like to say thank you to all his sponsors: Chicken George Jr

Light Cooperation

S&B Wick Brickwork Contractors

Jack Nicholas Group

Options Kitchen Ltd

Loose Goose Clothing

Red Lift Hire

BD Electrical Ltd

Nick Ansell Personal Training

Top Guard UK

My Compliance Centre Ltd

Elite Fitness Academy

Team Ansell Boxing Academy

Pro Nutrition Clinic

Fight 364

Pug Ldn

Phill Parker

Rich Stokes
...........
Catch rising star Tom in his eagerly-awaited fight at Watford Leisure Centre next Saturday evening.
Tickets have been selling fast, don't miss out.
Tom's bout is part of a boxing-filled evening at Watford Leisure Centre on Saturday, October 30 which features 10 fights on the card, filled with young local talent from 6pm onwards.
Ticket Prices - £40
How to get tickets - Call/message 07854115766