Harpenden 38 Letchworth GC 29: Legends show promise but fall to strong opposition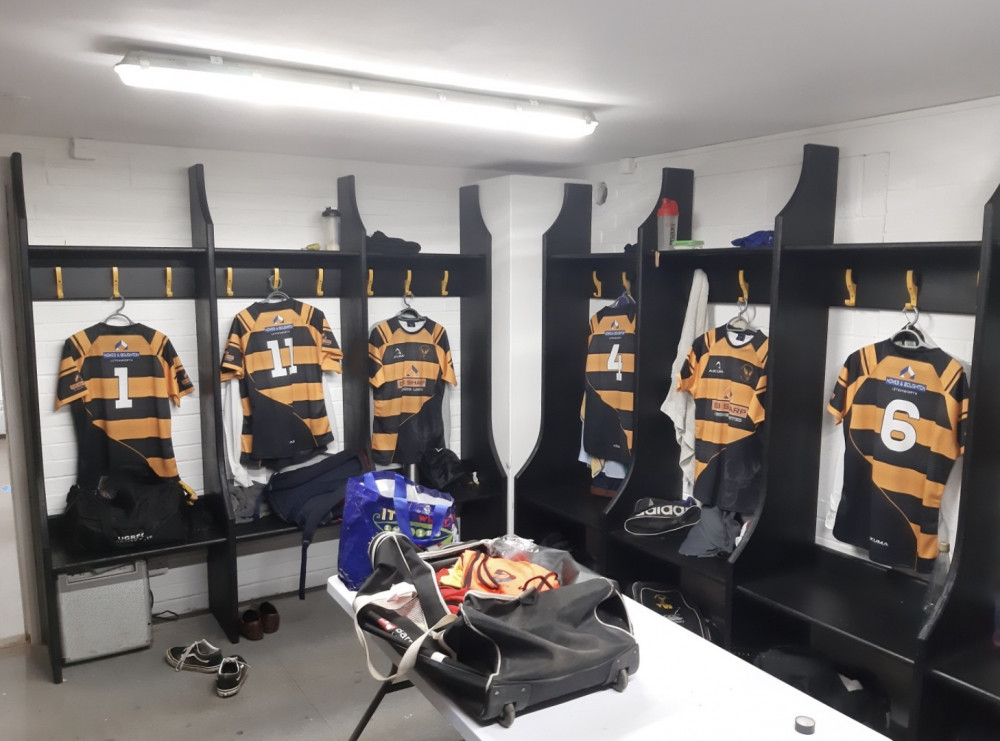 Legends show promise but fall to strong opposition - Harpenden 38 Letchworth GC 29
Harpenden 38 Letchworth GC 29
As head coach Baz Basra observed after the game .. this match followed a pattern where for the first twenty minutes Legends did not believe they should be in this exalted league … and like last week they suffered for it.
However when belief was restored they more than held their own and in this case nearly overtook their hosts who have a fine home record and finished fourth last year.
The first half of the encounter saw Letchworth again behind at half-time. However, this week they had far more parity in possession and trips to the red zone.
The difference was that every time Harpenden attacked they came away with something, either a penalty or converted try while Letchworth too often muffed their chances
It was the home side who appeared more eager and quicker on the ball aided by their impressive triumvirate of loaned Saracens players especially lean and rangy second row Olamide , a budding Itoje , and Murphy a nippy scrum half who scored their first try.
Letchworth in fact started well. Josh Sharps astute chip found space and Harpenden gave away a penalty . Harvey Howman took the ball on, and it was a great set up for a Sharp drop goal a la George Ford.
But the next 15minutes were disastrous for the visitors who seemed to contract an over respect for Harpenden who more or less bossed the game and scored three tries one good and two very soft to take a 21/3 lead.
However, after the water break, Letchworth attacked hard and were rewarded when they took a scrum against the head and on the blind side Josh Stadden got the ball down in the corner for a good try.
A great kick from Sharp made it 21/10. There was further Letchworth pressure for the next 10 minutes, but unfortunately the ball would not go to hand at the right time or poor passing let them down .
Even after Harpenden were reduced to 14 with their bulky prop in the bin they weathered the storm and then at the end of the first half two trips to the Letchworth 22 brought two penalties by outstanding kicker Mann to leave it 27/10 at the break and Legends ruing chances that had gone begging.
Happily the second half was a far better affair for Letchworth this week, and at one point it even looked as if they could eclipse their hosts so good was the comeback.
For a while, the home crowd became far less noisy.
Five minutes, after the break, a great run by "Flash "Jordan Sullivan -Warner saw Harvey Howman take it on, and then Tom Lewis flung it out to the wing for speedy fullback Chris Gibbs to dive over and
Sharp made no mistake with the kick . Another Letchworth attack was thwarted but not before another yellow card for Harpenden.
Then a break out by the home side and an aborted attempt by Letchworth to run it out saw the ball richochet backwards for the Harpenden winger Gulliford to go over for a freak try.
At 32/17 they seemed out of sight, but what is this ? ….a real Letchworth fight back to compare with last season?
Good pressure from the indomitable pack saw Letchworth attacking the home sides line and the ball was flung wide quickly for substitute Tom Ansell to dive over for a fine score near the corner flag.
The pack were now creaming Harpenden in the set piece and after pressure from man of the match HARVEY Howman and number eight Tom Lewis , centre Will Titherington sliced through to go near the posts and Sharps kick made it 32/29 and game really on. Was it to be?
Well no as Harpenden retained possession well to receive two kickable penalties and steady the ship . Tireless prop Oscar Robinson also received ten minutes for an offside infringement and although Sharp had a chance to narrow the deficit with a last minute kick his effort just drifted wide but still left Legends with one bonus point for their efforts and a relieved home club house.
So with more lessons learned another stern test awaits with Colchester visiting Legends lane next Saturday.
There is a lunch beforehand and all diners are requested to book their place with Les Wiltshire 07827373937.
The day was improved with the news that the development side having travelled to Bishops Stortford only to discover it was a home fixture triumphed 34/10 - Pizzas all round !!
Team from 1
Robinson
Hughes T
Stokes
Wilcock
Peasnell
Mongston
Askham
Lewis
Howman
Sharp
Itechi
Titherington
Sullivan -Warner
Staddon
Gibbs
Hughes
Fitts
Ansell