Morrisons allowed to build new supermarket after battling Asda, Tesco, Budgens who opposed new site
By Will Durant - Local Democracy Reporter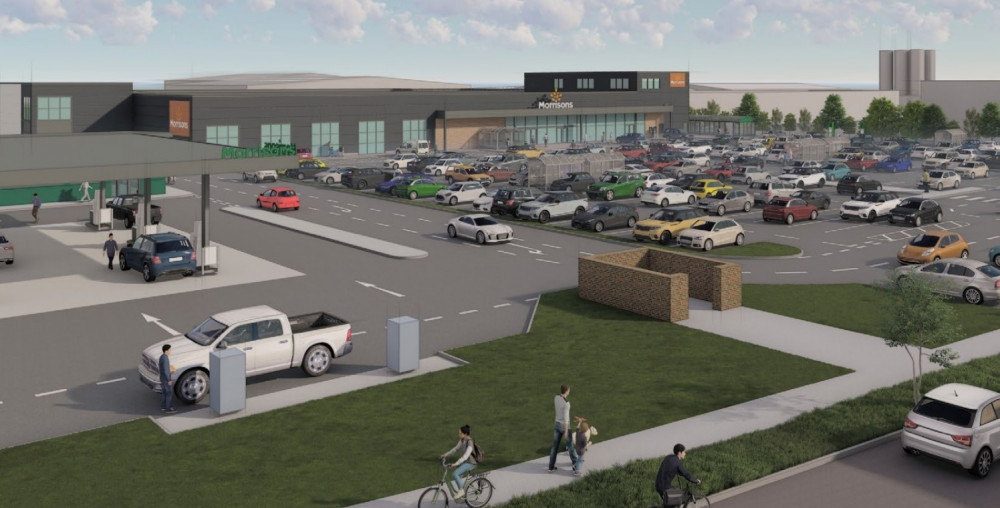 New Morrisons supermarket to be built. How a new Stevenage Morrisons, not far from Great Ashby, could look. Credit: Whittam Cox/Stevenage Borough Council
A new Morrisons supermarket will be built in Stevenage but councillors and campaigners fear the store could be difficult to reach.
Morrisons has permission to knock down a former business unit on the corner of Cartwright Road and Wedgwood Way, and build a superstore and petrol station in its place.
According to Stevenage Borough Council officers, more than 190 people had written to the authority in support of the scheme.
But at a planning committee meeting on Thursday, May 25, councillors discussed what the developer and local authorities could do to make it easier for cyclists, drivers and bus passengers to get to the shops.
Opposing the proposal in its current form, Jill Borcherds of Cycling UK warned the traffic-free cycle network is patchy between Pin Green and residential areas to the south.
More than 760 people have signed an online petition calling on local councils to "Complete the Gresley Way Cycleway".
Mrs Borcherds said there could be "safety issues" if the supermarket attracts more car drivers to the area.
She said: "Stevenage Local Plan policy SP6 requires developers to create the conditions for a significant increase in passenger transport, walking and cycling."
Mrs Borcherds added: "There is no segregated cycleway alongside Gresley Way, and for part of the route, cyclists must share the main road carriageway traffic going up to 40 miles per hour for at least 650m.
"Seven hundred and sixty two local people have signed a petition for a cycleway along the entire length of Gresley Way – including the last 650m.
"All cycle parking should be moved nearer the store."
Councillor Maureen McKay (Lab, Pin Green), who sits on the planning committee, raised fears the site is poorly served by buses.
The SB7 is the only bus route along Cartwright Road, which runs in one direction only – eastbound from Stevenage town centre and Pin Green towards Great Ashby.
Cllr McKay said: "I'm a regular user of the SB7.
"It goes up Cartwright Road – not very regularly, I might add.
"It's a one-way system.
"If anyone actually wants to go to Morrisons from anywhere but the town centre, you will have to get two buses.
"If you want to get there from Chells or anywhere to the south, you can't get there."
Members of the Conservative Group warned roads in the area are narrow and are already busy with lorries.
Cllr Graham Lawrence (Con, Woodfield) said: "Most of us do not go to supermarkets on bicycles.
"We go to do our big shops.
"Most of us at my age – we can't cycle that far with a bag on the handlebars.
"While I am in favour of improving cycle facilities, I'm not in favour of it at the expensive of road space."
Stevenage Borough Council planning staff promised authorities had acted with "due diligence" to road safety.
They said Hertfordshire County Council's highways department had not objected to the planning application.
According to a set of conditions, the developers must tell local authorities how they plan on improving a nearby bus stop, which will include raised height kerbs, a shelter, and real-time bus information which will be provided in the site.
They must also hand over a scheme for cycle parking to the authorities, which will need to be agreed.
"Cyclists would enter the site via the main access junction off Wedgwood Way," a Stevenage Borough Council report sets out.
"The proposed extension of cycling facilities to the south of the site would enable most cyclists to access the site via a proposed shared footway-cycleway on Wedgwood Way."
The developer must also pay the Community Infrastructure Levy, a "non-negotiable" charge for "non-site-specific" infrastructure projects, which could include a future cycle lane on Gresley Way.
Supermarkets battle as Asda, Tesco, Budgens oppose Morrisons
Despite almost 200 residents supporting plans for the new Morrisons, some organisations opposed the scheme.
Nearby North Herts Council lodged an objection.
The authority feared Morrisons would have "a significant adverse effect on Budgens and in turn Great Ashby centre".
The owner of the nearby Budgens said: "We have all worked tirelessly over several years to establish a strong customer base, especially over the Covid pandemic to serve the local community, and this development could have a devastating impact on the livelihoods of many small business owners in the area."
Tesco and Asda representatives claimed the Morrisons would cause "harm" to the allocated Pin Green employment area, with Tesco adding any "adverse effects" on its store in Stevenage town centre could have a knock-on effect for visitor numbers more widely.
Stevenage Borough Council took independent advice on the town's retail scene, and found that, although the store would have a "slightly greater impact on the town centre" than the developers claimed, the effect is not significant.
"It is concluded the proposal would give rise to several positive environmental, economic and social benefits," Stevenage Borough Council found.
At the May 25 planning committee meeting, a spokesperson for the developer said: "We acknowledge the building will result in a loss of a B-class [general industrial] building, but it will not result in a loss of economic or employment space in Stevenage.
"This is a site within a part of Stevenage with only small convenience provision."
A council report notes that the foodstore alone could create between 115 and 150 jobs.
A retail assessment which Morrisons asked for notes: "It would contribute to a more even geographic distribution of foodstores across the borough.
"It is notable that the existing supermarkets in Stevenage are predominantly located in the west and south of the town.
"It would reduce the length of journeys and help meet the challenge of moving to a low-carbon future."
Councillors voted to grant planning permission.