Letchworth Rugby Club pays impeccable tribute to the late monarch, Her Majesty Queen Elizabeth II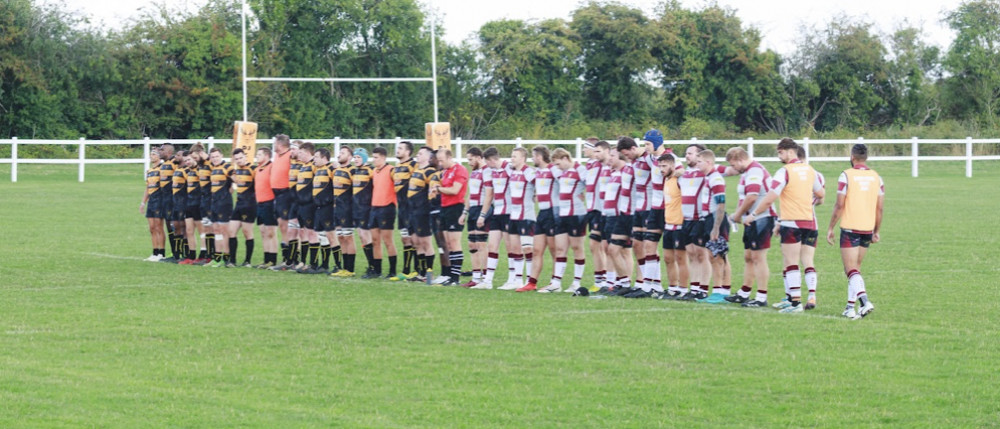 Letchworth Rugby Club and opponents Brentwood pay tribute to our late monarch before the match. CREDIT: Paddy Allen
Letchworth Rugby Club has paid impeccable tribute to the late monarch Her Majesty Queen Elizabeth II
Letchworth Garden City 48 – 37 Brentwood
The large crowd, who had impeccably observed the two minutes silence in honour of Queen Elizabeth before kick off, were looking forward to watching three debutants in the Letchworth starting line up – fly half Josh Sharp, flanker Jack Askham and no 8 Tom Lewis. Also in the team was powerful centre Vuki, returning to Letchworth after a few seasons away. All four had outstanding games.
Within a minute a knock on resulted in a scrum at which Letchworth shoved their opponents back, and Letchworth's dominance in the scrum proved to be significant in this match. Letchworth played some excellent rugby in the opening minutes, and an attempted kick by Brentwood to clear their lines was brilliantly charged down by open side flanker and captain Liam Fitts. Letchworth were first to the loose ball, and an offload by winger Danny Odita found Fitts who went over for Letchworth's first try which went unconverted. It was to be Fitts's last action in the game as at the charge down the ball had struck him in the face, causing a nasty looking eye injury. Burly second rower Adam Amos came on as the replacement, with Dan Peasnell moving to the flank.
Within a few minutes Letchworth's lead was increased. A tap penalty by number 8 Tom Lewis saw him make valuable yards deep in to Brentwood territory, and the move was finished off by fellow debutant and back rower Jack Askham. This time the conversion was made to give Letchworth a 12-0 lead and a fine start to the new season!
However Brentwood were now coming back in to the game, playing some good rugby themselves. Just outside their 22 Letchworth were caught offside at a breakdown, and as it was central Brentwood decided to take the kick to make it 12-3 with a quarter of an hour gone.
Fly half Josh Sharp brilliantly intercepted a pass on the half way line and set off for the Brentwood try line. He slowed down to look for support but when he realised there wasn't any he pinned his ears back and raced to the left corner but was bundled in to touch just before he could dot the ball down. Sharp showed some real class throughout the game, and as the match went on so did his influence on it.
After 25 minutes Letchworth found themselves offside again in an almost identical position to the first one, and again the kick was made to bring the score to 12-6.
After 30 minutes Brentwood were awarded a contentious penalty when no 8 Tom Lewis was judged to have deliberately knocked on when making a tackle. Brentwood moved the ball left and after some excellent handling went over in the corner for their first try, and a superb conversion saw them take the lead 12-13.
However that lead didn't last long. Brentwood were penalised at a scrum in their half, and the ball found it's way to Sharp. His flat pass found prop Oscar Robinson running a great line and he went over unopposed near the posts to restore Letchworth's lead and give an easy conversion, making it 19-13 to Letchworth.
Letchworth now had their tails up and were playing some great rugby. The strong running Vuki fed flying winger Danny Odita who stepped inside his opponent to go over near the left corner. The conversion was missed so it was now 24-13.
40 minutes was up on the clock but there was still time for two more scores before the half time whistle blew. Brentwood centre Tyler Ford looked dangerous every time he had the ball, and his run and offload lead to a try in the right corner. The conversion was just missed, so it was now 24-18.
Shortly after Brentwood were again penalised in the scrum. The ball found its way to Vuki and his strong run in to the Brentwood red zone saw an offload to scrum half Harvey Howman who out muscled the Brentwood defenders to touch down just to the right of the posts. The score was converted to make it 31-18, and that was the last play of the half.
Richard Stokes, returning after a long term injury, replaced prop Conor Turner at half time, but in no way was Letchworth's outstanding scrummaging diminished. Early in the second half Letchworth's pack pushed Brentwood back at a scrum on their 22, and no 8 Tom Lewis picked up and was rampaging towards the try line. However the whistle was blown as Dan Peasnell was judged to have been holding an opponent in at the scrum. Indeed Peasnell was yellow carded for the offence and had to spend 10 minutes on the naughty step.
Just a few minutes later and an excellent mazy run by Brentwood's replacement winger was finished off with a try, and a very good conversion brought the scores to 31-25. However Letchworth soon extended their lead as after some excellent rugby, with Sharp and Vuki leading the way, a penalty was awarded in front of the Brentwood posts. The kick was made to make it 34-25.
20 minutes in to the second half Sharp made an excellent kick to find touch in the left corner. Peasnall, who had only just returned, won the lineout and Sharp fed Oscar Robinson. This time the prop had to catch the ball from over his head but that wasn't going to stop him as he again took a superb line to crash over for his second. The fact that he had returned from his honeymoon in South Africa only the day before didn't affect his performance in any way! The conversion was made to take the scores to 41-25.
Five minutes later and another great kick by Sharp resulted in a lineout in the corner. From the lineout the ball found it's way back to Sharp and after some nifty footwork he dotted down over the whitewash for Letchworth's seventh try. It too was converted to make it 48-25.
However Brentwood weren't going to lie down and after concerted pressure in Letchworth's 22 they went over for their fourth try which was well converted to bring the scores to 48-32. And it was Brentwood who would make what proved to be the final score of the match. A contentious penalty was awarded against Letchworth at a scrum, and Brentwood kicked the ball to touch and won the resulting lineout. The ball was kicked high in to the right corner and an excellent chase by the Brentwood winger was rewarded as he was the first to get his hands on the ball to score. The conversion was missed so the score was 48-37 which is how it remained when the final whistle went just a few minutes later.
So a great start to the new campaign by Letchworth after gaining promotion last season. This win against a strong Brentwood team surely gives them confidence for the remainder of the season.
Legends now face two tough weekends on the road in Essex against Woodford and Chingford respectively, before they face leading contenders Eton Manor at home on October 1st.
There will be a league lunch before the game and all diners should book in with Brian Burke as soon as possible as it is likely to be a sell-out. His number is (07768) 274037
Team from 1:
Robinson
Hughes
Turner
Peasnell
Wilcock
Askham
Fitts
Lewis
Howman
Sharp
Gurure
Davies
Vukinavanua
Odita
Dell
Stokes
Amos
Palmer