Paddington: The Story of a Bear
---
North Hertfordshire Museum
19th Mar 2022 - 26th Jun 2022
UNTIL Sunday 26th June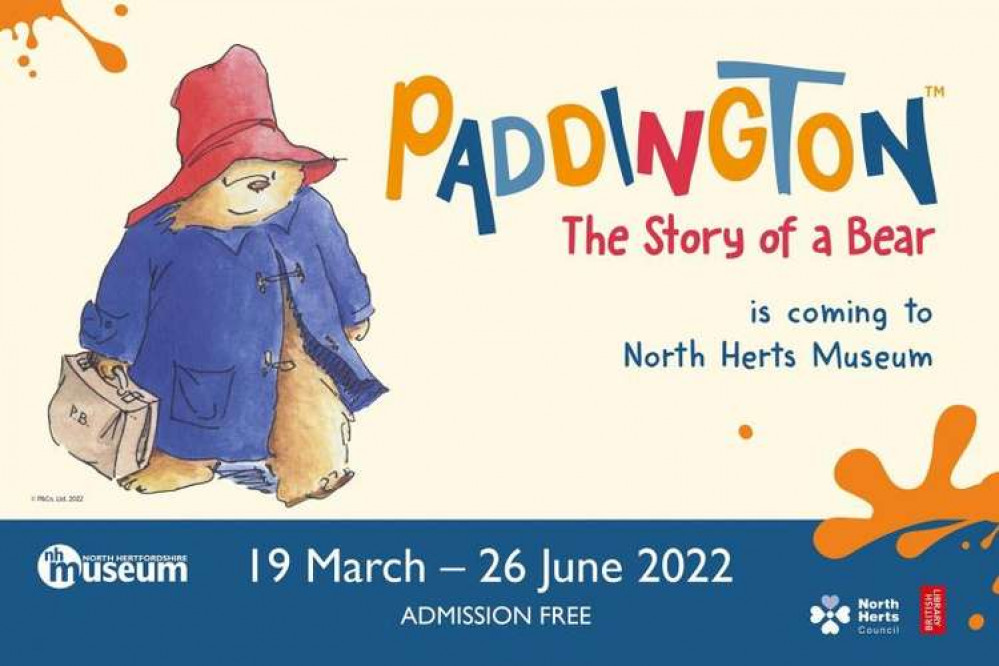 The brilliant touring exhibition from the British Library, Paddington: The Story of a Bear, is coming to North Herts Museum from 19 March to 26 June. Follow his trail of marmalade splats to explore his tales of adventures in this educational, fun and free exhibition.
Celebrate one of the world's most beloved fictional characters over 60 years on from when he was first introduced in 1958. Featuring over 50 books, documents and original artworks, highlights include:
- the first edition of A Bear Called Paddington by Michael Bond given to his parents
- a selection of memorabilia owned by Michael Bond – including Bond's typewriter used in the 1960s
- the original illustrations of Paddington stories by artists including Peggy Fortnum, David McKee and R.W. Alley
- large Paddington and Aunt Lucy plush toys. Ros Allwood, Cultural Services Manager at North Herts Council, said: "We are honoured to have Paddington come to visit us in Hitchin, the only location in the south east of England. There'll be Paddington themed activities for children, as well as Paddington themed delights in our café, such as marmalade cakes and sandwiches. Whatever your age, you don't want to miss out on this wonderful exhibition on your doorstep." Alison Bailey, Lead Curator of Printed Heritage Collections 1901-2000 at the British Library, said: "We are thrilled Paddington: The Story of a Bear is touring to North Hertfordshire so that more people will have the opportunity to see this fun, family-friendly exhibition. Paddington is a timeless and universal story of desire for home, acceptance and a sense of belonging and we hope visitors to North Herts Museum enjoy discovering his stories and following his adventures." Join us for a marmalade sandwich-fuelled trip down memory lane – an average visit lasts 30 minutes. North Herts Museum is located in Brand Street, Hitchin, open Tue-Sat 10.30am-4.30pm and Sun 11am-3pm, and general admission and this exhibition is free. For more information check out @northhertsmusuem on Facebook and Instagram, @nhertsmuseum on Twitter, visit the Museum website or call 01462 474554. You can also catch up with Paddington's many adventures on Facebook, Instagram and Twitter @paddingtonbear.
Add your Letchworth event for FREE here!
Nub It