Letchworth: Congrats to museum curator Josh Tidy on scooping prestigious Project of the Year award for brilliant Tom Karen exhibition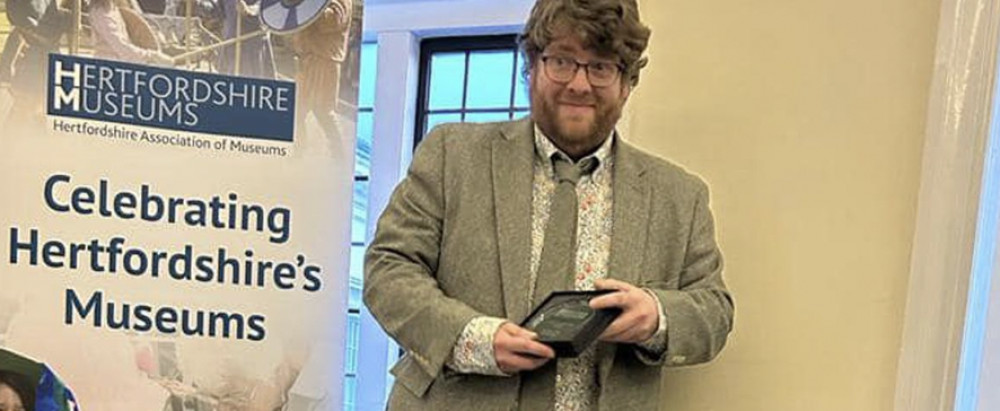 Congratulations to Museum Currator Josh Tidy. CREDIT: Letchworth Garden City Heritage Foundation
Tom Karen Creations Scoops Award!
Congratulations to museum curator Josh Tidy on scooping prestigious Project of the Year award for brilliant Tom Karen exhibition.
The honour was presented to the humble but talented Josh at the recent Hertfordshire Association of Museums Awards that were held at North Herts Museum in Hitchin.
While 2022 ended with the sad news of the passing of the genus that was Tom Karen, the acclaimed Letchworth designer's legacy has been kept alive through the outstanding curation of Josh and the team at the Heritage Foundation.
The Heritage Foundation said: "This award was judged by a special panel of senior museum professionals from across the region, so we're absolutely thrilled with the win!
"Congratulations to museum curator Josh Tidy and the team for scooping the 'Project of the Year' Award for the 'Tom Karen Creations' exhibition (and schools/website project)."
The late Tom was the lead designer at Letchworth's OGLE Design, and is best remembered for designing the iconic Bond Bug and Raleigh Chopper.
The Museum at One Garden City is currently running an exhibition dedicated to his life and work, which has been extended to 15 April.
See our weekly What's On in Letchworth series for more on this brilliant exhibition.
PS: Congratulations to Josh and the team on landing such a prestigious honour - from Letchworth Nub News.