Letchworth ice cream parlour forced to change name of 'Perky Pig Gelato' after legal letter from Marks & Spencer claiming it was too similar to Percy Pig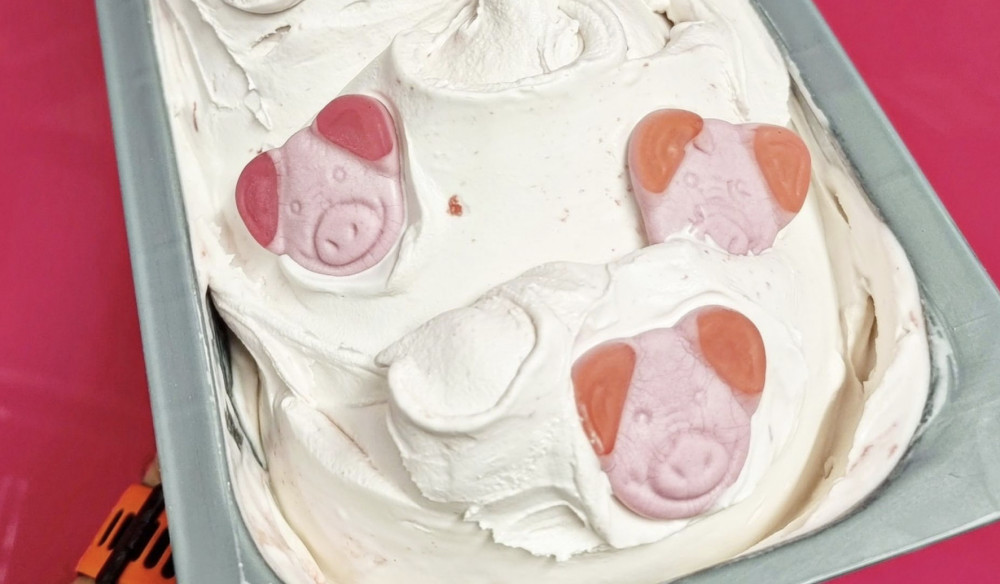 Perky Pig ice cream has been renamed after request from M&S. Pic: Fabio's Gelato
Popular Hitchin and Letchworth ice cream parlour Fabio's Gelato has been forced to rename its 'Perky Pig Gelato' after a sour-faced response from Marks & Spencer, which said it was similar to its 'Percy Pig' sweets.
The supermarket giants took offence to the independent business with branches in Hitchin and Letchworth town centres naming one of its ice creams after the iconic TV character
Ahead its launch, Fabio's posted on social media introducing the product.
It read: "Perky Pig Gelato available in Letchworth tomorrow!
"500ml Perky Pig tubs available in both shops tomorrow. Launching in Hitchin very soon.
"How long will it be in stock? Depends how fast it's eaten…"
However, a mere 24 hours later, the ice cream shop put up another post showing a letter sent from sour-faced M&S sternly taking issue with the name of the product.
The letter said: "While we are flattered that you have been inspired to create a flavour based on our Percy Pig sweets, and in no way wish to stop you from selling this flavour or from using our sweets to top it, we could be grateful if you could avoid using the name PERCY PIG to do so.
"Percy Pig is one of our 'hero' brands and we own trade marks to protect it.
"We risk losing those trade marks (and more importantly to us, consumers will no longer be confident Percy Pig-branded products originate from M&S) if we do not take steps to stop others from using them without our permission.
"We are keen to resolve this amicably. We would be grateful if you could confirm to us within 14 days of this letter that you have renamed this flavour to one that does not use the PERCY PIG mark or anything similar to it."
Fabio Vincenti - dubbed the Willy Wonka of Ice Cream in North Herts captioned the post and said: "Soooooo about that Gelato we made... It's got a new name 'Fabios Pig'
"M&S put a stop to the original name we used, but they were kind enough to send us some bags of those pink pigs to sweeten the deal."
RELATED NUB NEWS ARTICLES ON FABIO'S GELATO
Fabio's Gelato: Willy Wonka of Ice-Cream and TikTok star concoct chocolate and crisp flavour - as punters flock to buy unusual combination
Hitchin: Fabio's Gelato boss opens up on cost of living crisis: It's painful - the harder we work the higher the costs
UP CLOSE WITH: FABIO VINCENTI OWNER OF FABIO'S GELATO – HITCHIN SATURDAY Q&A