Letchworth 40 Ipswich 19: Legends gunning for top promotion spot after fine victory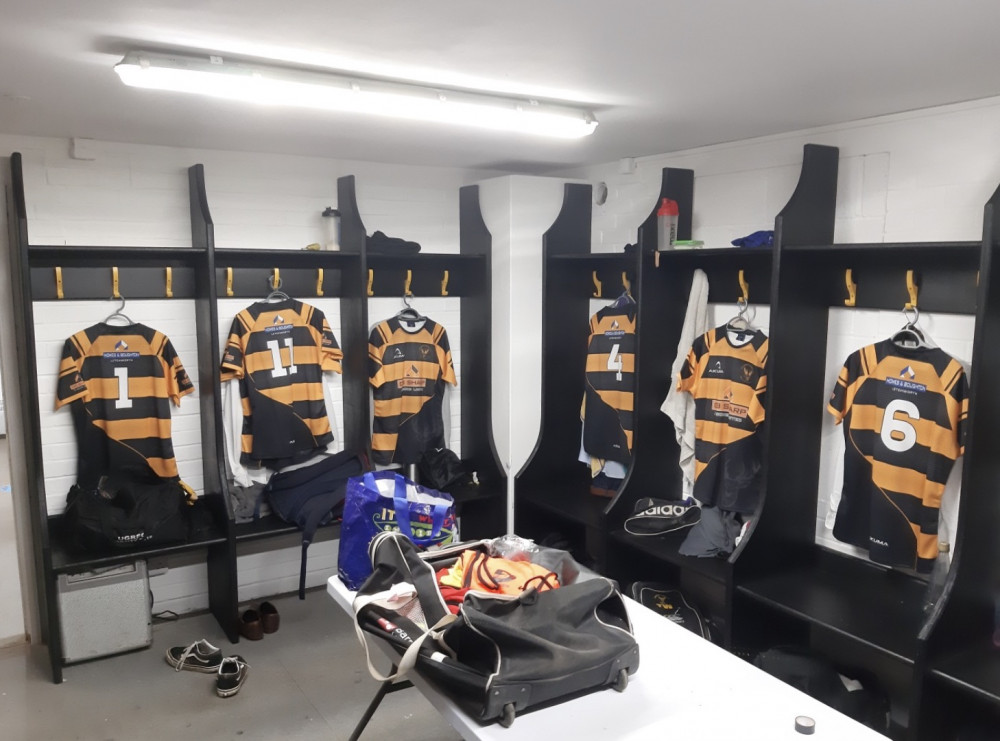 Letchworth 40 Ipswich 19: Report by Rick Sell
Letchworth 40 Ipswich 19
Legends maintained their grip on the sole promotion spot with a fine bonus point victory on Saturday but it was by no means one way traffic as reporter Rick Sell explains …..
Letchworth maintained their seven point lead at the top of the table with this 40 - 19 bonus-point win against a spirited Ipswich at Legends Lane. Man of the match Josh Sharp scored 20 of those points, chalking up two tries and the rest with the boot.
Baz Basra's side were missing the versatile Sonny Ma'asi, outstanding at HAC last week, due to illness. His place in the back row was taken by Legends warrior 'Wonky' Dave Rae who has never been known to take a backwards step, and who tackled his heart out for the full eighty minutes of this match.
Letchworth made an excellent start, with diminutive winger Chris Gibbs leaping to win the ball after Sharp's beautifully weighted kick off. Letchworth continued to apply the pressure in the Ipswich red zone, including a big shove in the scrum … a taste of things to come. But it was Ipswich who came away with the ball, their burly prop charging out of his 22 and in to Letchworth's half. The ball then found it's way to Ipswich's open side flanker Jake Goodwin who's mazy run and strength took him over for the game's first score, with the extras added to make it 0 – 7. With ball in hand Goodwin was to be a constant threat for the rest of the game.
Ipswich's good start continued when they battled to regain possession in Letchworth's half, spreading the ball left and then right where Legend's winger Tatenda Gurere was shown a yellow for a high tackle. However soon after Letchworth themselves were awarded a penalty which allowed them to clear their lines.
Ipswich again applied the pressure and were rewarded with a lineout on Letchworth's 22. But it was Letchworth who gained possession and a great break from powerhouse number 8 Tom Lewis carried the ball in to Ipswich's half where it went through the hands to send centre Will Titherington gliding over for Legend's first score of the day. Sharp's attempted conversion went narrowly wide so Ipswich remained in the lead at 5 – 7, but it was to be short lived.
Chris Gibbs has been in fine form in recent weeks, and a combination of his pace and handling skills set up the next score. He sprinted down the right wing, holding his line to commit the Ipswich defender before laying off a beautifully timed inside pass for full back Ben Palmer to dive over just to the right of the sticks. Sharp made no mistake with the conversion to ensure Letchworth took the lead at 12 – 7.
That lead was very nearly extended when a great move involving captain and scrum half Harvey Howman, Titherington and Sharp created an opportunity for Lewis, but he was unable to hold on to the ball when under pressure from Ipswich defenders, otherwise a score seemed certain.
However Legends didn't have to wait too much longer to extend their lead. Their superiority in the scrum led to a penalty and a lineout in the corner, and from that a lovely pass from Howman found Sharp running a great line to go over and give himself an easy conversion and a Letchworth lead of 19 – 7.
Despite their lowly league position this was a highly spirited Ipswich side and they weren't going to go down without a fight. Tom Lewis received a yellow for a high challenge which, like Gurere's before, seemed harsh to those looking on. Despite the prowess of the Letchworth pack Ipswich opted to take the scrum, a decision that proved to be the right one as soon after they crossed the whitewash to the right of the posts for a converted score to narrow the deficit to 19 – 14.
With half time fast approaching Letchworth won a penalty on Ipswich's 22 which was kicked to the right corner, and from there it was moved left and then right before a handling error under the posts meant a 7 pointer went begging. But there was just enough time to make amends before the half time whistle was blown. After some great work by back rower Luke Mongsto the ball found its way to Howman, who's strength and footwork ensured he broke three attempted tackles before scampering over for a fine individual score and Letchworth's bonus point try. A great conversion by Sharp meant that the sides went in at the break with a scoreline of 26 – 14 in Letchworth's favour.
As in the first half it was Ipswich who scored first in the second. Dangerman Goodwin took a quick penalty and carried the ball up to within 5 metres of the Letchworth tryline where it was re-cycled for big number 8 Monty Douglas to crash over for an unconverted score to narrow the gap to 26 – 19.
Then excellent pressure by Letchworth was rewarded when Ipswich spilled the ball in their own half. Second Rower Tommy Wilcock pounced to gather the ball before battling his way to gain some extra vital metres to allow Rick Streets to set up fellow centre Titherington to go over for his second try, superbly converted by Sharp to make it 33 – 19.
Sharp set up Letchworth's next scoring opportunity when he kicked a penalty deep in to Ipswich's 22. Tom Lewis caught the ball in the lineout and then immediately made a break and drove over the Ipswich tryline, but the Ipswich defenders managed to hold him up.
Letchworth were dominant in the scrum and they went on to win another penalty which Sharp kicked to the right corner. Sharp received it back from the lineout before dancing his way past the remaining Ipswich defenders to go over under the posts and give himself another easy conversion to make it 40 - 19.
That was to be the final score of the match, securing Letchworth exactly what they wanted - a bonus point win that keeps them seven points clear at the top of the league with three fixtures remaining.
At the time of writing it is doubtful whether next weeks opponents , Chingford , will travel . The bottom side in the league have scratched for the last three weeks running and are likely to relish a journey to Legends lane despite Letchworth travelling to them in dire circumstances some five years ago ! However there will be a full days Rugby at Letchworth with a development squad game being planned and a full day of six nations action to follow ! Another day not to be missed .