Letchworth Rugby Club's outstanding Band of Brothers win again to make it 33 games without defeat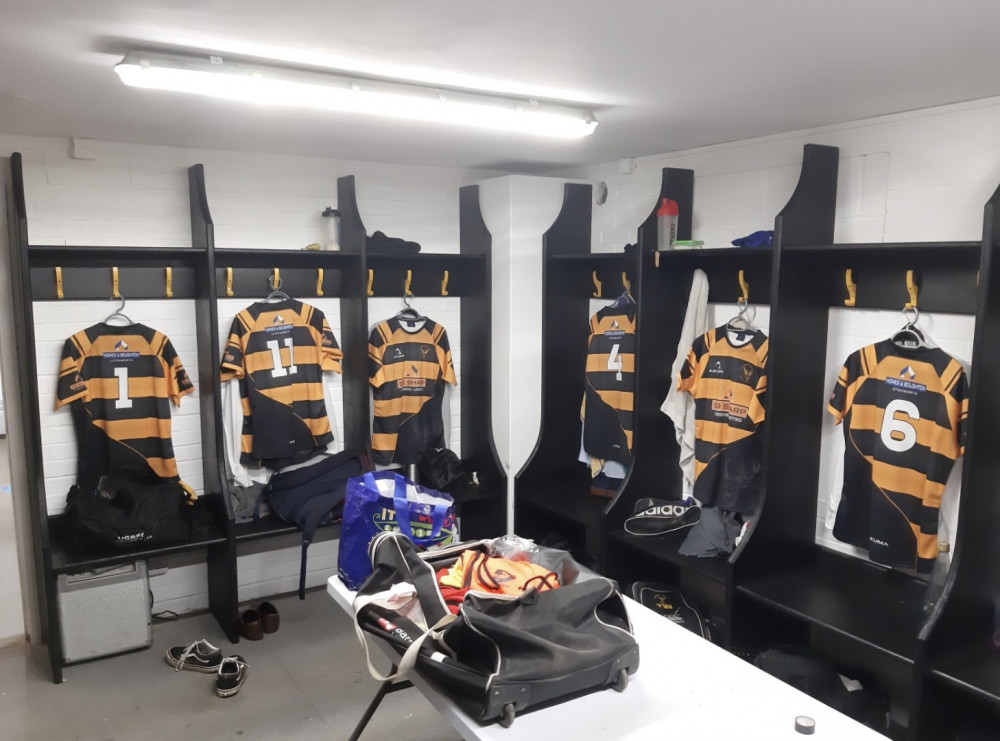 HAC 10-16 Letchworth: Legends win again
HAC 10-16 Letchworth: Legends win again
As with the tussles against Southend all the games against this illustrious HAC side have been hard and close and so a mighty throng of Legends supporters descended on this field of dreams in the heart of the city expectant of another thriller … and so it was to prove.
This 10–16 victory further underlines Letchworth's status as the favourites for the title and gives Baz Basra's side a record of 33 successive matches without defeat.
The fight and the spirit that Letchworth showed in defence was astonishing at times, a band of brothers in black and amber that will do everything in their powers to avoid defeat. Fly-half Josh Sharp was a composed presence with his 11 kicked points - three penalties and a conversion - helping to subdue a highly motivated HAC side playing at their wonderful, if somewhat surreal, ground in the heart of the City of London.
Letchworth were the first to score, rewarded for their early intent with a kickable penalty on the HAC 22 which Sharp calmly slotted over to make it 0 - 3. However that seemed to kickstart HAC in to life, and they soon showed their intentions of toppling one of their main rivals for the title.
The HAC fly half had a fine kicking game, and at every opportunity he kicked deep in to the corners to keep Letchworth under sustained pressure. It was from a lineout on the right touchline that HAC had their first scoring opportunity, the ball being quickly spread left before centre Will Titherington snuffed out the attack with an excellent tackle.
Another penalty on the Letchworth 10m line gave HAC's fly half another opportunity to kick deep, this time to the 5m line on the left touchline. The ball was spread swiftly to the opposite touchline but excellent defence by Letchworth kept them out until a great line by one of the HAC second rowers changed the point of attack. He looked certain to score but first Adam Amos managed to slow him down and then a brilliant last-ditch tackle by Sonny Ma'asi as he dived caused him to lose possession before he could touch down. This exemplified Letchworth's never say die attitude in defence throughout the match.
Further penalties led to more HAC lineouts deep in Letchworth's half, but each time magnificent defence kept them out. However when Letchworth were penalised in mid-field on their own 22, this time HAC took the opportunity to get on the scoreboard and the fly half made no mistake to bring the scores level at 3 – 3 mid-way through the first half.
In HAC's next significant attack they chipped the ball through and Letchworth knocked on on their own 5m line, giving HAC the scrum in the shadows of the posts. But again excellent defence kept the pressure on the HAC attack which resulted in a handling error, and from Letchworth's scrum – still deep in Letchworth's half - Sharp was able to clear. However it wasn't long before HAC were again on the attack, this time their dangerous ball carrying 6 bursting through in to the Letchworth 22, but again outstanding defence ensured Letchworth won a penalty.
As half time approached it was HAC who had dominated possession and territory, but it was Letchworth who were to score just before the break. Again Letchworth's defence held firm after another HAC lineout, and somehow scrum-half and captain for the day Harvey Howman snaffled the ball, punting it deep in to HAC's half after sprinting out of his own 22. Howman proved a worthy deputy for absent skipper Liam Fitts and led well, especially when some decisions seemed to be going against the visitors. From the kick HAC re-gained possession but were penalised at the ruck after some great work by chasing hooker Ma'asi. Quick thinking back rower Luke Mongston took the penalty quickly but was stopped illegally by the HAC scrum-half, who was shown a yellow card for his troubles. Again Letchworth wisely decided to take the points, the ball sailing through the posts after another sweet strike by Sharp to give Letchworth a half time lead of 3 – 6.
The second half saw the introduction of prop Mark Tate and 'Rambo' Hughes in the second row, and Letchworth also began to start dominating in the scrums, often shoving their opponents back regardless of who had the put in. But it was HAC who continued to throw everything they could at Letchworth's defence. With HAC again knocking at the door, a fantastic steal by Letchworth on their own 5m line allowed Sharp to clear close to the halfway line. But within minutes HAC had a lineout deep in Letchworth territory after Legends were penalised at the breakdown, but another chance was gone when the ref deemed the throw in not straight. A Sharp interception provided Letchworth with their best attacking opportunity of the second period so far, but a handling error let them down.
Powerful running by centre Rick Streets and then wing Tatenda Gurure got Letchworth back in to the danger zone, and great handling by backs and forwards alike sent Ma'asi scything through before crashing over for a well-worked score just to the left of the posts. Again Sharp made no mistake to take the score to 3 – 13 in Letchworth's favour.
But just a couple of minutes later HAC had narrowed the lead back to 3 points after Letchworth conceded two penalties in quick succession. The first was kicked deep to the right corner and, shortly after winning their own lineout, the second was taken quickly for HAC to barrel over near the posts for a 7 pointer. So, 15 minutes in to the second half, the score was now 10 – 13.
The next phases of play saw both teams share attacking opportunities with Chris Gibbs, who had moved from wing to fullback, back to his best. Letchworth's two best chances were both brought to an end by forward passes, whilst the continued excellence of Letchworth's defence either led to handling errors or HAC being penalised at the breakdown.
With less than 10 minutes to go Letchworth had a lineout on the right touchline which they won cleanly and moved the ball in to mid-field where HAC were penalised just outside their 22. Sharp stepped up to maintain his 100% record and extend Letchworth's lead to 10 – 16.
Shortly after number 8 Tom Lewis intercepted in his own half and charged down the left wing in to HAC's 22. With defenders bearing down on him he attempted to pass inside to second rower Tommy Wilcock who was bursting every sinew to keep up and provide support, but a chasing HAC defender managed to intercept and the danger was gone.
With just a few minutes left HAC were doubly determined to get the 7 pointer that would provide them with victory. Letchworth's defence continued to stand up to everything that was being thrown at them, albeit conceding a number of penalties close to their own try line, for one of which centre Will Titherington received a yellow. Lawrence Anfo-Whyte, HAC's talismanic captain and prop, decided their best chance of getting the required points was to tap & go, which he attempted several times. But with 80 minutes up Ma'asi put in a huge hit under his own posts, instantly getting to his feet to steal the ball which was then fed to Sharp to boot off the pitch for the full time whistle to be blown. Letchworth had battled their way to yet another pulsating victory in what has been an exceptional season to date. After celebrating on the pitch, the players and large travelling support – resplendent in Letchworth colours – retired to the magnificent and historic Armoury House to continue those celebrations long in to the night.
So with this important hurdle overcome it is vital now that Legends do not take their eye off the ball with matches coming up against lower sides in the coming weeks. First up at Legends Lane are Ipswich who were no pushover when they faced the league leaders in November. There is a league lunch beforehand 12.30 for 1pm and all diners are requested to contact Les Wilsher on 07827 373937 … the carnival moves on!
Team from 1:
Robinson
Ma'asi
Stokes
Wilcock
Amos
Mongston
Askham
Lewis
Howman (c)
Sharp
Gurure
Streets
Titherington
Gibbs
Palmer
Reps:
Tate
Hughes
Staddon